---
Join the Friends at Oxford Day on Saturday, June 8th at Oxford High School for a Paperback and children's book sale. 10am-5pm
---
Get the most out of your
social security retirement income
a must attend if you are between ages 60-66
Dave Cowan, a
AAA
Endorsed Retirement Advisor will help you learn how to maximize your benefits, the difference could be as much as $100,000 more in lifetime benefits.
Register at the desk to join us at Oxford Library on
Thursday, June 20
th
at 6:00 p.m.
---
eSequels indexes character, location and subject as well as author and title so you can identify a series that you may recall only vaguely.
eSequels gives brief annotations that describe each title without "giving away" any surprise endings.
And last, but most important for some readers, eSequels lists the novels in the correct reading sequence so you can begin at the beginning rather than blunder into the middle of "Act III."
---
Check out our new online magazines-Woodworker's Journal,
Bloomberg Business Week, Vegetarian Times. Log in using oxlib@yahoo.com for email, and library486 for password to see the issues.
---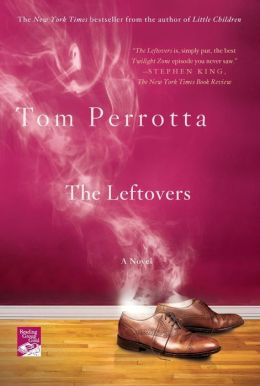 Book Discussion: Join us on Thursday, June 13th at 6:30pm for our
next adult book discussion,
The Leftovers by Tom Perrotta
On October 14th, the little town of Mapleton suffered the Sudden Departure, the still unexplained disappearance of many of its citizens. As survivors try to make sense of the vanishings, one man, Mayor Kevin Garvey, struggles without real guidelines to heal the chasms that appeared nearly instantaneously among those still living in this bereft community. Even his own household seems to be shattered: His wife has joined a cult that has taken a collective vow of silence; his son drops out of college to follow a wild-eyed prophet; and his teenage daughter has become distant and strange. This new novel by the author of Little Children and Abstinence Teacher probes how continuing uncertainty undermines connections.
Stephen King says:
Perrotta has delivered a troubling disquisition on how ordinary people react to extraordinary and inexplicable events, the power of family to hurt and to heal, and the unobtrusive ease with which faith can slide into fanaticism.

The Leftovers

is, simply put, the best "Twilight Zone" episode you never saw—not "The Monsters Are Due on Maple Street" but "The Monsters Are Us in Mapleton." That they are quiet monsters only makes them more eerie.
—The New York Times Book Review
---
DONATIONS-Please contribute to the Friends of the Library in Oxford. Every dollar you donate to the
Jane D. Weiss Family Foundation will be matched to double the donation to the Friends of the Library in Oxford.
Donations of $25 and over with your name and address will be acknowledged as a charitable tax deduction.
Thank you for your continuing support.
---
New Kindle Titles available! Please check out our 2 new Kindles donated by the Friends of the Library in Oxford. We just added numerous titles to both machines-Kindle Title List-the newest in fiction and nonfiction bestsellers are available. Come by the library to check them out!
---
Sign up for Wowbrary (Click Wowbrary to start) -free weekly
---
Please check out our Overdrive Downloadable Audiobook and E-book Service-
Click here to get started: http://bibliomation.lib.overdrive.com
For help downloading the initial needed software, check out the videos here:
http://www.overdrive.com/help-videos/
Downloadable audiobook service from the State Library available now!
Click http://iconnct.oneclickdigital.com to get started.
Comments, suggestions or questions? Contact the webmaster at staff@oxfordlib.org.
Site last updated: May 22, 2013.